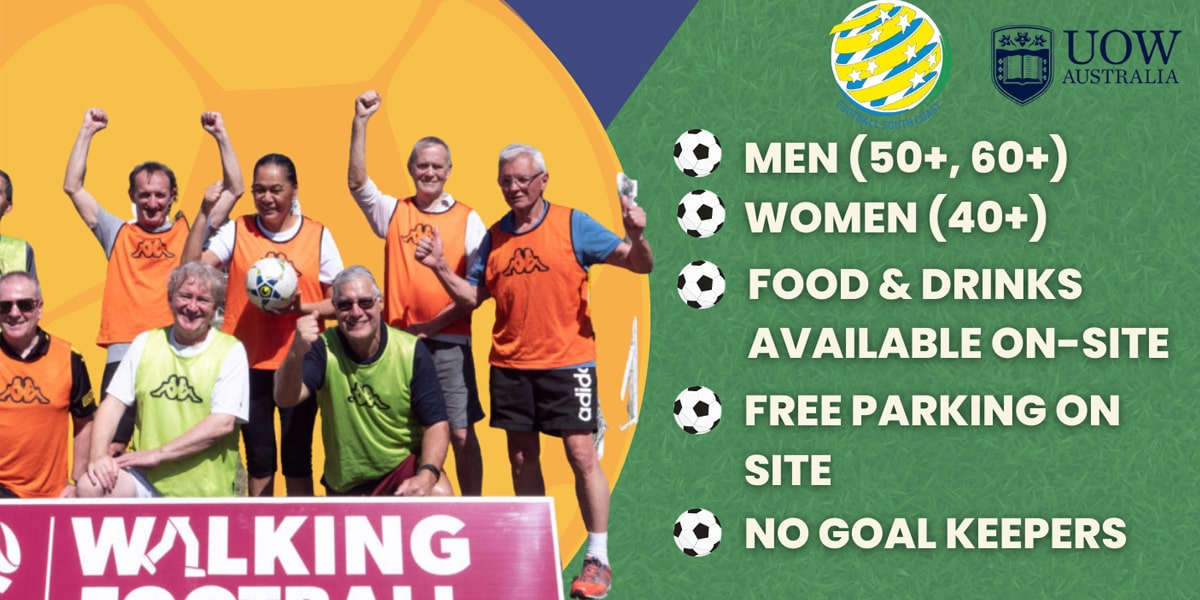 Walk the Field – Walking Football tournament
Football South Coast in partnership with the Public Relations students of the University of Wollongong (UOW), proudly presents Illawarra's first-ever Walking Football Tournament.
The event will take place on May 13th, 2023 (9:30 start)  at the University of Wollongong Sports Hub. This tournament will bring together enthusiasts of all ages and abilities from across the country for a day of competitive and friendly walking football matches.
Walking football is a modified version of football, open to women over 40's and men over 50's and 60's. Players are required to walk instead of run and keep the ball below head height, creating a slower-paced and safe game. The sport is played on a smaller pitch with a smaller ball.
The Walking Football Tournament will feature multiple rounds of both social and competitive walking football matches, food and drink stalls, entertainment, and exciting prizes to be won, making it a fun day out for everyone.
Football South Coast is hosting come and try sessions on the day of the tournament from 8:45am, giving all players the opportunity to get a feel for the game.
In a recent interview, registered walking football player, Derek Nattrass said, "after many injuries in my younger years, I never thought I'd play sport again but then I found walking football, which has been life-changing. Ever since playing, I have lost five kilograms and formed lifelong friendships."
Football South Coast is proud to be part of this event and in a recent interview, Football Manager, Sonya Keir said, "Walking football provides mature adults who are unable to play traditional football an opportunity to remain active and social, and we hope this event encourages more people to take up the sport."
The Walking Football Tournament at the UOW is open to participants of all abilities and registrations are now open. To register please visit http://bit.ly/3FlsVJm
For more information, visit the event page on Facebook https://fb.me/e/2mGXoMDlE, website  https://footballsouthcoast.com/walkingfootball/ or contact Joe Seco at walking@footballsouthcoast.com