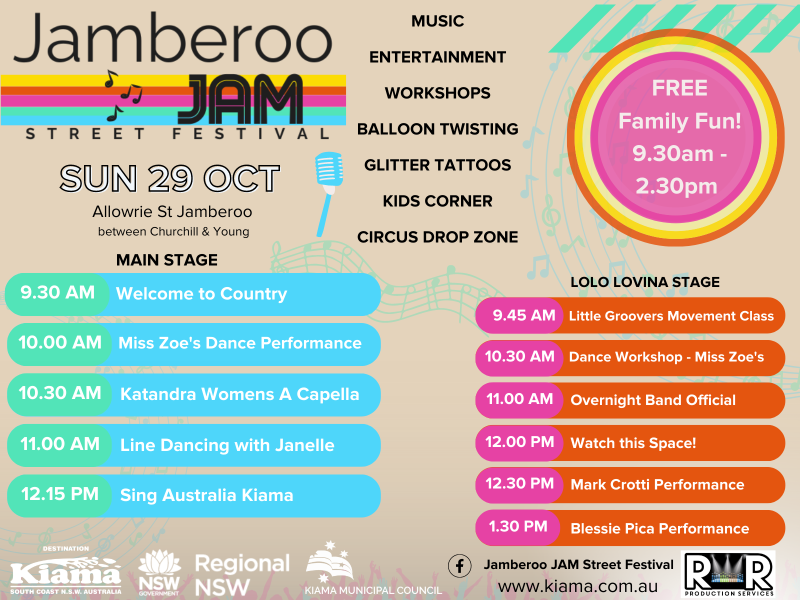 Jamberoo JAM Street Festival 29 Oct 2023
Destination Kiama is bringing the good vibes to Jamberoo on Sunday 29 October.
Jamberoo JAM Street Festival will be taking the excitement to Allowrie street with FREE, family friendly fun including live music and dance performances across two stages, a circus drop zone, free workshops, lawn games, kids corner, a music playground and more.
Move between the Vintage Car Show, Village Markets and dining at local cafes while you JAM from 9.30-2.30.
This event is brought to you by Kiama Council and supported by NSW Gov Reconnecting Regional Community Partnerships Program.
Find out more information at kiama.com.au or
Click "interested" or "going" on the Facebook event page 'Jamberoo JAM Street Festival' as updates are added to the discussion posts.
Weather:
Intermittent wet weather in the lead up to the event date may preclude the car show and / or markets from proceeding.
Extreme weather predictions (heavy rain or high wind / gusts) for the event date may lead to the cancellation or postponement of the street festival. Please stay up to date by clicking "interested" or "going" on the Facebook event. Notifications will be added to the event discussion posts in the event of any changes to planning.
Parking:
Road Closure: Allowrie Street will be closed to vehicular traffic from 8am until 3pm between Churchill and Young Street. A detour will be in place along Wyalla and Macquarie Streets.
Street parking will be affected by the Jamberoo Car Show and will be limited.
A limited amount of overflow parking will be managed off Churchill Street. Please allow ample time to find a parking spot, consider car pooling and please ensure no cars are parked on Allowrie Street between Churchill & Young. Please keep Wyalla Road clear to avoid potential congestion.
Food:
A variety of food stalls will be present at Jamberoo Village Markets, as well as a fundraiser sausage sizzle, snacks and drinks at Jamberoo Car Show. The local cafes and pub on Allowrie St will be showcasing their amazing fare, as well as offering quick and easy options for festival goers.