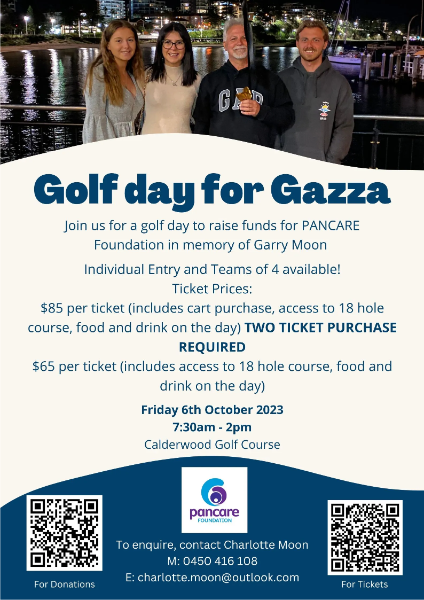 Golf Day for Gazza
Our dad Garry was diagnosed with Oesophageal Cancer in December 2021. He refused to give up throughout the 9 month long journey and fought to the very end. Garry was empathetic, strong, funny but more than that he was the number 1 supporter to his kids Jake, Charlotte and Sophie. Garry loved his sports in particular his golf, so we thought it was only fitting we host a fun golf day in his memory!
All profits from our event will be donated to Pancare Foundation to make a difference to the lives of those affected by upper gastrointestinal cancers – pancreatic, liver, stomach, biliary and oesophageal cancers.
With some of the lowest survival rates out of all the major cancers, we must act now to improve the statistics and create a brighter future to help ensure the suffering dad endured doesn't happen to anyone else.
We hope you'll join us and our special MC for the day Adam Straney to celebrate our one of kind dad Garry!