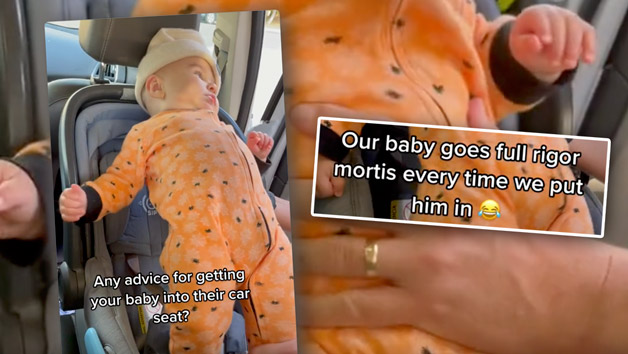 New parents Ben and Lex have posted a hilarious video of their struggling efforts in getting their baby into a child seat. The video which has received over 14 million views has over 30K comments (at the time of writing), has amused the internet with the relatable struggle.
In the video captioned, "Light as a feather, stiff as a board!" the parents ask their followers for advice writing, "Any advice for getting your baby into their car seat?" As father Ben attempts to seat his son Bennett, he stiffs up and refuses to sit down comfortably resulting in both parents laughing at the situation. They then add, "Our baby goes full rigor mortis every time we put him in 😂 " as the dad continues to try and adjust the baby to sit down. He eventually manages to get Bennett sitting down by the end of the video. No crying involved!
Of course, capturing the attention of the internet, there were some hilarious responses to the situation. One person commented:
"I just karate chop mine right in the waist till they bend."
Some compared the baby to food, suggesting that he just needed to be softened. One wrote, "Just add water, noodle should soften." "Put in the microwave for ten seconds so he softens up," another added.
Others took more of a tech angle, suggested restarting the baby. They commented:
"Press control, alt, and delete at the same time. If that doesn't work - unplug it for 30 seconds."
A similar commenter wrote, "Have you tried switching it on and off again?"
"Push the belly button. It activates the folding mechanism."
"You have to lubricate the joints. Try WD-40 or apple sauce."
Another great suggestion that could actually work was the 'tickle method' with one person writing, "TICKLE TILL THEY FOLD," and another saying:
"I tickle them and once they go limp get them into place."
The new parents definitely have a lot of great suggestions with over 30K comments on their hilariously relatable video. Hopefully one of the suggestions work, or maybe six-month-old Bennett will learn to take a seat on his own eventually!
Image Credit: (@benandlex / TikTok)