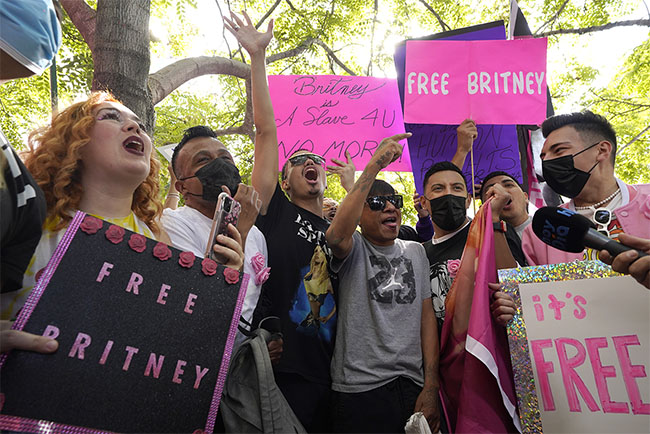 Britney Spears supporters celebrate outside the Stanley Mosk Courthouse, Wednesday, Sept. 29, 2021, in Los Angeles. (AP Photo/Chris Pizzello)
Britney Spears' lawyer has praised the fans behind the #FreeBritney movement, describing them as "instrumental" in helping the star make progress in her bid for freedom.
Britney today had a major win in her ongoing battle to remove her 13-year long conservatorship, with Los Angeles Superior Court Judge Brenda Penny ruling to suspend her father Jamie Spears as conservator, effective immediately, following explosive testimonies by the singer.
Addressing the crowd outside the Los Angeles Superior Court, Matthew Rosengart described the battle to regain freedom for the star as "a lot of hard work" and said that Britney and her team will now be able to "move forward and focus on Britney's well being and how Britney can once again be Britney".
Rosengart also praised the role Britney's fans have played in the campaign, saying: "This movement has become bigger than Britney. It has become about human beings and people who care about other human beings having the right for their basic civil liberties ... I don't think any of us would want to live under a conservatorship, so thank God we live in America where if you're an adult you get to do what you want unless there is some clear reason why you shouldn't." He continued: "I'm grateful that her fans are here because they are instrumental with this fight. This is not just Britney's fight, is Britney's fans fight too. Britney couldn't have gotten this far without Britney's fans. We wanted Britney to be able to come here and say, 'I'm Britney Jean Spears, I need for you to let me go.'"
Jamie Spears' lawyer Andrew Wallet commented on the ruling by saying: "We are disappointed with today's court ruling suspending Mr. Jamie Spears as conservator of Britney Jean Spears. The order has come as a complete surprise because at no time were we notified that the court would consider taking such an action."
He added: "As Mr. Jamie Spears is still under his incapacity conservatorship, any request or petition submitted must be signed by both Mr. Jamie Spears and Britney Jean Spears. Britney Jean Spears did not share with the court on December 3rd, 2018 any complaints or concerns about her conservatorship."
Mike Maguire, CC BY 2.0, via Wikimedia Commons
Britney's latest win came after Britney had given explosive testimony in which she claimed to have felt like a "guinea pig" for her father while under conservatorship and begged Judge Penny to give her more control over her life.
Britney had told the judge of feeling like a "prisoner" at times during more than ten years under the thumb of her father, who was appointed court-ordered conservator of Britney's personal and financial affairs after she suffered an infamous meltdown in the back of her car at Los Angeles International Airport in 2007.
Britney testified that "no one would talk to me about anything" until turning 18, adding: "I felt like a child trying to parent my parents." Britney said her life went into "a very scary tailspin" after she turned 18 years old because she had never handled money or paid taxes. She said her early 20s were "awful" as it became clear she couldn't control what was happening around her - prompting Britney to "try not to think about certain things". Britney also revealed that she developed an addiction to prescription drugs in 2010 during her marriage to Kevin Federline.
Britney said that she was 'strong' when it came to the safety of her boys, but described feeling like "a little lost girl" when it came to everything else. Britney previously told the court she wanted "to be able to pick up the phone and call my mother or someone else if something were to happen" without having someone tell her what she could or couldn't do.
Kristopher Harris from Charlotte, NC, CC BY 2.0, via Wikimedia Commons

Britney also made clear in court that if given control over her life under a five-year plan, "it would be different than it is now" because she'd like more control over how people access her money - not just herself.
Judge Penny ruled that Britney was mentally fit enough to dump Jamie as conservator, but said that Britney's long-term mental health doctors would remain involved in monitoring Britney's progress for another six months.