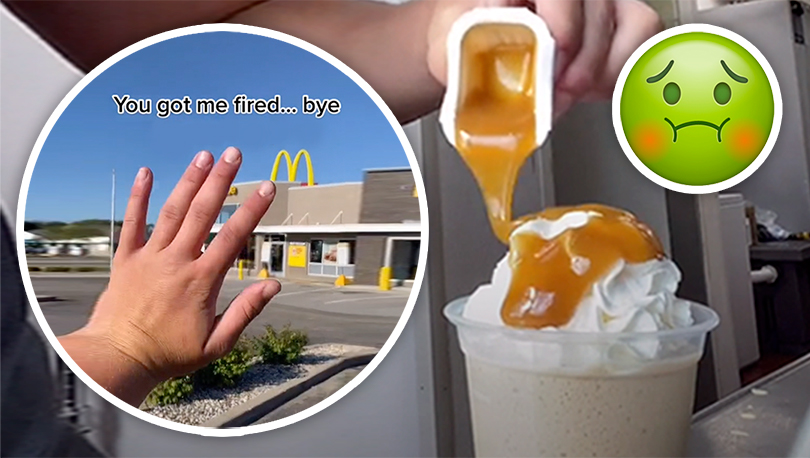 You know how they say 'be nice to people handling your food'? Well this is exactly why you should.
Tanner, a TikToker famed for creating eye-opening content around his low-tiered job at McDonald's, has been fired after taking it a step too far when making a caramel frappé.
In the video Tanner can be seen adding whipped cream (yum) to the beverage, but all hell breaks loose when he begins ripping open a packet of McDonald's famed sweet 'n' sour sauce and drizzling it on top of the drink in place of the usually delicious hot caramel.
Aimed at sending a gag-inducing message to a disgruntled customer, Tanner captioned the video, "When the customer has an attitude but u remember I only make 8.50 an hour."
@mcdanksbitch

##comedy ##mcdonalds ##work ##xyzbca

♬ jealous girl lana del rey - !marvete, the asgardian
Needless to say, the comments have been rolling in thick and fast.
Why I never say a word until AFTER I have my food - user8507679019694
Why does it look better than caramel tho 😭  - Justin
I will legit fight you if you serve me that - Mingles
Nah that's just wrong 😂 😭  - Corz
A week later the TikToker posted a follow-up video saying, "Ladies and gentlemen you did it... you got me fired."
@mcdanksbitch

##mcdonalds ##comedy ##rip ##fired ##work ##lmao

♬ INDUSTRY BABY - Lil Nas X & Jack Harlow
So remember kids, be nice to the people that make your meals, else you'll be digging in to a sweet 'n' sour sundae.
Image Credit: @mcdanksbitch / TikTok