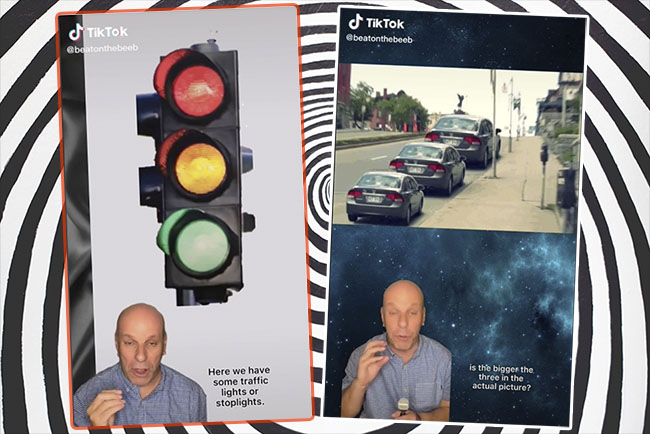 We all think that 'seeing is believing', but these brain-hurting illusions from TikTok user beatontehbeeb are making us rethink everything.
His latest video of traffic lights has already had nearly 10 million views and is almost making us see red… with astonishment that is, because there really is no red in the picture. Seriously!
Check it out:
Lots of people didn't want to believe, except for that one commenter who said, "Jokes on you I'm colorblind". Which started a whole conversation in the replies around the different types of colourblindness... but let's not get distracted by that shall we? Here's some more illusions:
Which of these three cars is bigger? Totally obvious right? Think again, because this is an illusion after all.
While one person wrote in response: "me screaming "NO" over and over alone in in my apartment" and plenty of other people were arguing in the comments about the truth, we love the commenter who joked: "The fourth [car] is biggest but it's over the hill so you can't see." We like how their mind works. If you still can't get your brain to make it work, try flipping your phone upside down.
Is your mind broken yet? How about we finish with this cute animal image. But what is it? What do you see? Can you see both?
Image: TikTok/@beatontehbeeb