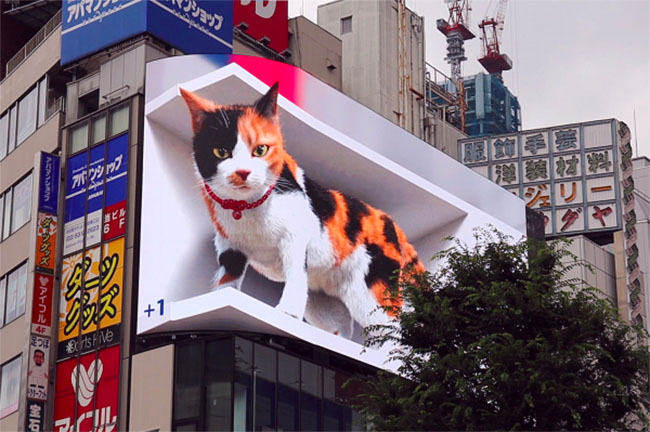 Move over Godzilla, because a giant cat is taking over Tokyo!
The calico kitty is inside a massive digital advertising billboard and greets commuters as they exit Shinjuku Train Station in Tokyo, Japan.
A new supersized 3D screen has gone up in Shinjuku. This giant kitty will be featured in between broadcasts.
pic.twitter.com/Fh0YLWW3rx

— Spoon & Tamago (@Johnny_suputama) July 5, 2021
The screen curves around the building and creates a hyperreal 3D effect. In one video posted online, we see the cat waking up from a nap and almost falling off the 'edge' of the building. (But if it fell, it would land on its feet right!?)
Rare footage of Shinjuku's giant kitty, seen just once a day at 7AM sharppic.twitter.com/SPbuKsWgjW

— Spoon & Tamago (@Johnny_suputama) July 6, 2021
The 3D effect works like those anamorphic chalk drawings you see street artists creating. Their image looks weird and distorted until you stand at exactly the right angle and suddenly you see an amazing 3D scene that you could fall into.
Right now the cat wakes up at 7am every morning Tokyo time, and heads to bed at 1am. But from July 12 it will only show up between other scheduled paid ads, so get in and see it now while it's around more often.
There's a live webstream from across the road so you can check out the billboard anytime and see what the kitty is up to. Tokyo is only one hour behind East Coast Australian cities so you've got a good chance of seeing the cat in action!
It's not the first time we've seen 3D images jump out of digital billboards, but the technology seems to be getting more and more impressive.
Enjoy these other ones too (but don't get hit by the train!):
Spaceship
Lion
Train
Image: Cross Space