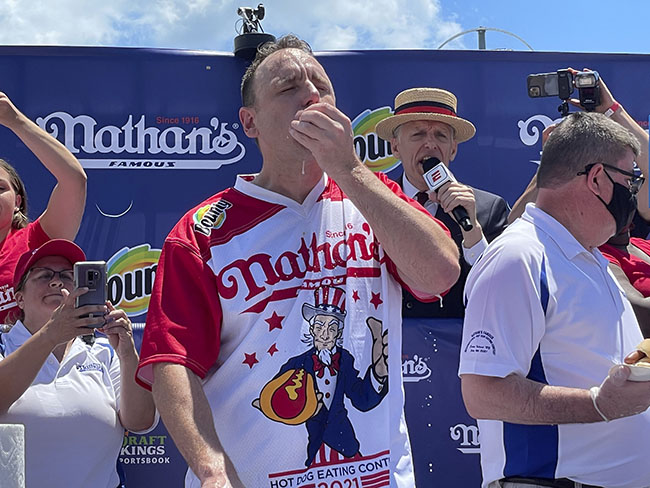 Nathan's Fourth of July Hot Dog-Eating Contest men's champion Joey "Jaws" Chestnut (zz/STRF/STAR MAX/IPx, AP)
How about this for an appetite: A new Guiness World Record has been set after a man ate 76 hot dogs (and buns) in 10 minutes!
It's the 14th time that Joey Chestnut has taken out the Nathan's Hot Dog Eating Contest record, beating the record he set last year by 1 hot dog.
No wonder his nickname is "Jaws"!
JOEY CHESTNUT WITH A NEW WORLD RECORD 76 HOTDOGS IN 10 MINUTES 😳

14 titles 🐐 pic.twitter.com/3iia7YIHdr

— SportsCenter (@SportsCenter) July 4, 2021
The guy who came in second place managed to eat only 50 hot dogs and buns, though that's of course still massively impressive!
The women's champion was Michelle Lesco, who ate 30.75 hot dogs and buns (yes, every bit counts).
Of course, someone made a very good point about the competition, which we find hard to argue with:
If they let dogs compete, this record would be laughable pic.twitter.com/06Oopq1yTJ

— Rex the TV terrier (@rexthetvterrier) July 4, 2021
If only he washed it down with a gallon of lemonade...
There was also a new lemonade skulling competition at the same event (Nathan's brand of lemonade course), with popular YouTuber and competitive eater Badlands Booker taking out the title with a record of 37 seconds. He's no stranger to chugging, as they say in America, and will surely be back next year to improve on his record.
Just for context, a gallon equals 3.7 litres! That's a lot of lemonade!
And that much lemonade means a massive belch at the end of course.
A GALLON OF LEMONADE!

Eric "Badlands" Booker is your inaugural chug contest winner 👏 pic.twitter.com/2b86mL62e1

— ESPN (@espn) July 4, 2021
His throat rn pic.twitter.com/ivCH7JP3TP

— Alebongo "Bris Bross" The Frog🛰🌚👾 (@BrisFrog) July 4, 2021
Have you ever won an eating competition?