There's a reason that the Just Dance franchise has survived as the number one choice rhythm and motion games of the last 10 years. It's a wonderfully simple design that is easy for any non-gamer to pick up so you can play in a group of friends of any skill. The song choices are always popular hits that in most cases are just as fun to sing along to as they are dance, so even when it's not your turn you are sure to get your groove on.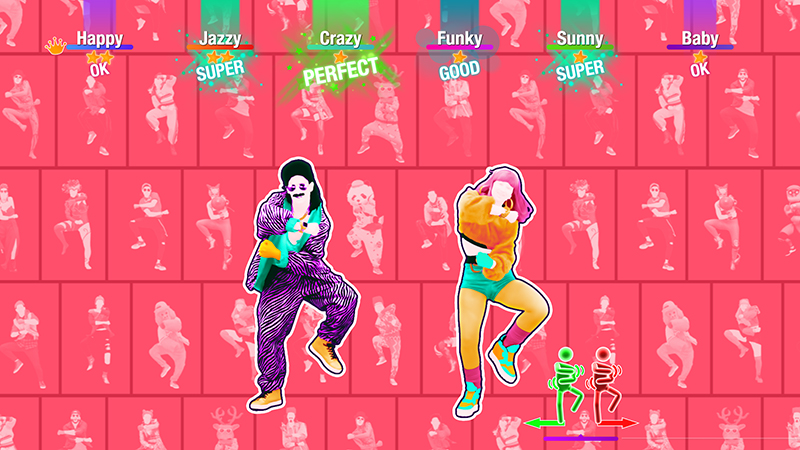 This might be a big call but I genuinely feel that in the last decade because of streaming services people are less inclined to get the yearly music compilation CD like the "Smash Hits" or "So Fresh" etc and are instead opting to get their favourite songs from the year in a fully interactive game like Just Dance. I mean why not, you get all your current favourites and a stack of hits from the past so there's something for everyone, plus there's a Just Dance subscription that unlocks a stack of other awesome tracks to dance to.
Keep in mind that as you play each song has a different difficulty level, all you have to do is look for the number of bars on the right hand side of the songs title, let that be your guide in the beginning but once you get the hang of it you'll be free-styling in the "Extreme" versions in no time at all.
There's also a "Sweat" mode, that helps you to "Dance Exercise" while you play. This is a great concept for gamers like me who want to be fit but need it to feel like a game to be active. You can even keep track of calories you've burned.
I really enjoy this game more when you are playing in a group of two or more. There's something about the party atmosphere it creates that just lends itself to be multiplayer.
Then there is modes like the All Star Mode which is to celebrate 10 years of Just Dance. You travel across planets with the panda to dance to songs from various incarnations of the game and unlock exclusive Just Dance 2020 tracks along the way.
The World Dance Floor is where you can compete with players online from multiple countries. Like any Dance party there are happy hours as well so keep an eye out for that where you can dance to unlimited songs for free.
Just Dance 2020 is available on Xbox and PS4, but for the last couple of instances it has become available for the Nintendo Switch and for me that's where it's really gone to the next level with the joy con controllers handling the motion of the title with ease. We are also excited to see how it will perform on Google Stadia in Australia.
Some of the best tracks on the dance playlist include:
DJ Snake featuring Selena Gomez, Ozuna & Cardi B with Taki Taki
Ariana Grande with 7rings
and of course this is always the crowd favourite at any Just Dance Party
Lil Nas X Featuring Billy Ray Cyrus - Old Town Road
oh and a special mention should go to Pinkfong.. no dancing game is complete without Babyshark!
Just Dance 2020 is the best party game you will get in 2020 especially since it's a game that is paying homage to the past 10 years of the franchise, it's like a greatest hits of Just Dance with enough new features to make you and your friends happy this Christmas.